Trinity is holding in-person Holy Communion at 10 a.m. on Sundays and online Evening Prayer at 5 p.m. on Saturdays. All online services are available via Zoom videoconference and live streaming on our Facebook page. We plan to follow this schedule as long as Covid case counts permit.
Trinity Church conducts the Holy Eucharist in accordance with Rite II of the Book of Common Prayer. Visitors who are baptized Christians are encouraged to receive the Eucharist, regardless of their faith tradition. We are called upon to repent our sins and to approach Holy Communion as an expression of the real presence of Jesus Christ.
Weekends
Saturday: Evening Prayer, 5 p.m. (online)
Sunday: Holy Eucharist, 10 a.m. (in person)
Service Guidelines
The following guidelines are in effect for in-person services once they return. They are posted at entrances to the church and the Parish House.
— IF YOU FEEL ILL IN ANY WAY, DO NOT ENTER.
— For contact tracing, you must provide your name, address, phone number and email address to enter.
— Masks must be worn at all times and must cover nose and mouth.
— Stay six feet apart from anyone not living in your household.
— Use hand sanitizer as you enter.
— The peace is to be exchanged by waving or by giving a peace sign. Please remain in your seats.
— No more than four people are permitted at the Altar Rail at a time.
— Chalice bearers will serve those who drink the sacramental wine first. Those who tincture, or dip their communion wafers into the wine, will then be offered a separate cup. Please be patient.
— No congregating on church property at any time.
Trinity is hosting dinner and worship in person at 6 p.m. on Wednesdays. The services were suspended during the coronavirus pandemic.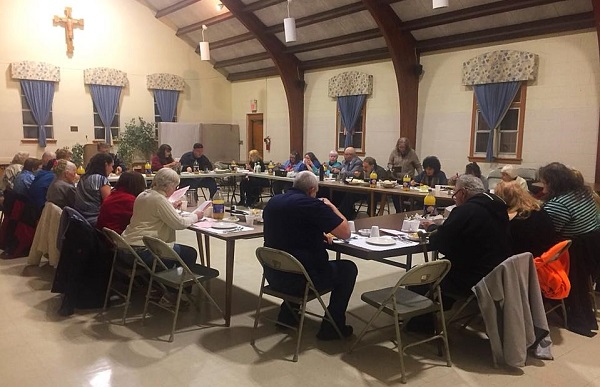 Prayer List
Intercessory prayers are offered at all weekend services for the sick and suffering and for members of the armed forces. If you are a congregant and want to include someone on the list, contact the Church Office.
Sunday School
Classes for children have traditionally met in the Parish House every Sunday, starting at 9:30 a.m., from September through June. Instruction is based on the great stories of the Bible and the Church. Each session ends in time for children to participate fully in the sacramental life of Trinity.
Fellowship Hour
Fellowship Hours with coffee, tea and treats are traditionally held every Sunday after the 10 a.m. Eucharist from September through June. Informal gatherings with iced tea and lemonade take place in July and August. They provide an opportunity to welcome visitors and newcomers and to share experiences.